COMPANY
PRODUCT
CONFERENCE
EVENT
IMAGE
STATIONERY
BROCHURES
FLYERS
POSTERS
ADVERTISING
INFORMATION
GRAPHICS
POSTCARDS
BOOKMARKS
XMAS CARDS
COMPETITIONS
PRODUCTS
PROMOTIONS
EDUCATION
BIG PHOTOS
SURROUND IMAGES
ILLUSTRATIONS
T 01908 677 994
M 07973 4444 01
Paper engineering is an effective way of making concepts on paper leap into 3D life.
As you can see from these examples, our paper engineering takes on many forms for many different uses.
Our creations are commissioned for PR and communication initiatives, Educational tools, Dexterity activities, Exercises in the writing of instruction, Fun gifts, Christmas cards.
We manage projects from concept and design to print production, and we also write and supply step-by-step illustrated instructions and packaging designs where required.
Please call us for more information.
Liz Male Consulting Ltd wanted to use the season of good cheer opportunity of sending a 'Christmas Card' and a message to bring a smile to the faces of their client & contact list. The Liz Male Christmas Card has now become somewhat of an institution within the construction industry.
Using the topical energy conscious building theme our solution was to design this paper engineered eco friendly stable as a card building kit. This PR exercise has a competitive element - recipients are invited to send photos of their built stable to Liz Male for publicising on the website.
Another Liz Male Consulting Ltd seasonal communications initiative. This time based on the government eco theme for the construction industry called 'The Golden Rule'.
This humorous pivoted folding rule was sent out as a Christmas Card.
The benefits of sending 'unique' 'novel' cards at Christmas are obvious. You can tailor them to your own requirements. They are talked about, they are precious, shown to other people, and hopefully kept rather than thrown away.
They also speak volumes about your company.
A Christmas card. This time for Inbuilt - the green building consultancy arm of renewable energy developer RES Group.
The brief - to share the company's 12 principles of Sustainable Development.
We designed a card kit that will make a Christmas tree decoration. The six sided construction was purposefully designed as a vehicle to display the company's message.
Click here to link to our digital imaging manipulation facility.
Mike Spike is its creative director of our sister site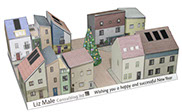 Christmas again for Liz Male Consulting Ltd.
This time we designed an engineered card kit to build a street of energy efficient buildings, complete with both solar and heat exchange roof panels plus a Christmas tree to decorate.
The iconic Concrete Cows of Milton Keynes now available as a cardboard kit.
Designed by Mike Spike for Planet Cow to publish.
Just cut it all out and glue it together.
Plus an extra 6 white cows to construct and colour, decorate or dress however you wish. . . and here's the fun bit - take a photo of your creation email it to the planet cow website and they will choose the ones they like and put them on the website.
The Wishing Tree is a self build kit to make a paper concertina tree on a base. When completed, find a scrap of paper, write a wish on it, fold it up and tuck it into the folds of the tree for good luck. There are hidden compartments inside the tree to hide secret wishes. Designed for www.planetcow.org.uk
An ongoing series of card kit Souvenir developed for Planet Cow.
These are novelties designed as alternatives to greeting cards.
For visiting tourist, and to send to friends and family abroad.
Appropriate for a wide range of ages.


NEWPORT PAGNELL AND OLNEY CHURCHES TICKFORD IRON ROAD BRIDGE BUILT 1810 OLNEY ANNUAL PANCAKE RACE
WEBSITE DESIGNED BY MIKE SPIKE • ALL IMAGES © MIKE SPIKE